Click on the topic below to anchor to more information.

| | | |
| --- | --- | --- |
| | Resourceful information was shared at the Town Hall Meeting on Opioid Addiction September 17, 2016. If you were unable to attend and want to learn more about the many facets of addiction, click the picture on the right to watch the event in its entirety. | |
Dear Parents and Guardians,
The Stafford County Sheriff's Office has set up a committee comprised of parents, local business owners, educators and law enforcement personnel called the Youth-At-Risk Committee whose main focus is committed to educating the public on potentially dangerous substances, drugs or practices that some young people may be engaging in the Stafford County area.
It is my hope that this information may assist you in helping you prevent your teen from experiencing some difficulties in this area or if problems have occurred help you in solving them. This committee provides this information to all schools in Stafford County as well as other areas where parents and young people come together. Working together I know we can make a positive difference in the present and future lives of our teenagers.
Sheriff David P. Decatur, Jr.
Education Guide
Click on any page below for a larger view.
CLICK HERE for a printable version of the full brochure.

Organizations and Centers
This past year, the subject initiative and collaborative effort between the Virginia Office of Attorney General, creative staff at DL Media, Gloucester County offices of Emergency Management and Commonwealth Attorney, and other Commonwealth officials and organizations produced Sink or Swim Campaign.

The mission of the Sink or Swim initiative is to build broad awareness of the issues related to drug addiction and be an information resource for individuals and families impacted by drug use. It is similar to what the Youth-At-Risk Committee is advocating - identifying and promoting at-risk youth awareness activities and prevention planning.

Please click the logo on the left to view a brief video containing excellent information and resources.
Resource Guide for Addiction Services and Recovery
CLICK HERE for a printable version of the above guide which provides inpatient and outpatient treatment centers.
Videos
Heroin: Know the Signs

Heroin, Heartbreak, Hope

Environmental, Behavioral and
Physical Signs

A personal story

The Juvenile Services Unit is a specialized unit which falls under the Patrol Division. The unit consists of a 1st Sergeant, Sergeant, and 15 Deputies. All 5 high schools and all 8 middle schools are covered by a full-time school resource officer. We also have a thriving D.A.R.E. program with two dedicated D.A.R.E. officers covering 17 elementary schools.
The Deputies of the Juvenile Services Unit provide the schools with age appropriate law enforcement coverage and the D.A.R.E. Deputies provide the 5th grade students at the elementary level a 12-week D.A.R.E. Education Program. These Deputies offer the schools an invaluable service clearly illustrating to the students and citizens of Stafford County that education and student and staff safety is a top priority of the Stafford County Sheriff's Office.
For a list of the School Resource Officers, visit the Juvenile Services Unit page by CLICKING HERE.


The Stafford Sheriff's Office Cadet Program is designed specifically for young men and women between the ages of 14 and 20 who may be interested in a career in law enforcement. Since 1973, the Stafford Sheriff's Office has offered young men and women an opportunity to experience law enforcement first hand through its Cadet Program.
Lead by Sheriff's Deputies, the program allows youth to train and work in a wide range of law enforcement procedures. The goal of the program is to help interested individuals cultivate a better understanding of the profession and enable them to make an informed decision about pursuing a law enforcement career. The program is designed to help build character, train for civic responsibilities, and educate and help prepare the participants for a career in law enforcement.
In assisting young people with their goals, we create a better community and law enforcement relationship, as well as a better understanding between our youth and the community.
Activities include
Training - Cadets receive training in a wide range of law enforcement procedures such as traffic control, crowd control, crime prevention, investigative techniques and court procedures.
Career - Cadets learn about career opportunities in law enforcement at the local, state and federal levels.
Community Service - Cadets will be involved in civic events, crime prevention displays, traffic control and with personnel in the Sheriff's Office for a variety of non-enforcement related tasks.
Ride-Alongs - Upon completion of a training period, qualified Cadets may ride on a patrol with deputies and observe law enforcement work first hand.
Academy - The first Cadet Academy took place in July 2017. Take a look at the slideshow depicting their week of training and education by clicking HERE.
Membership Requirements
Age - Any youth between 14 through 20 years of age
Citizenship - Must be a United States citizen and a Stafford County resident
Education - Must currently be registered in and attending high school. Must maintain a passing "C" grade average in academic studies. Cadets may continue to participate in the program after graduation from high school if enrolled in college.
Background Check - Applicants must pass a background investigation and interview conducted by a Cadet Panel.
If you are interested in becoming a Sheriff's Office Cadet, please fill out our online application HERE or contact Sgt. Carol Burgess, Program Coordinator, at 540-658-4931 or cburgess@staffordcountyva.gov for program availability.

Sheriff's Special Star Force Cadets
The Sheriff's Office developed the Sheriff's Special Star Force (SSSF) Cadet Program. This program was the first of its kind in Virginia, and possibly the first of its kind in the nation. The SSSF is designed for young people with intellectual challenges, ages 13-22. Cadets experience various duties of a law enforcement officer in a safe and hazard free environment. The SSSF Program is intended to be both an educational and community service based program.

Limited space. To check program availability, contact Darrell English at denglish@staffordcountyva.gov.

R.A.D. - Rape Aggression Defense System
Click on the picture below to watch a video on the self-defense class.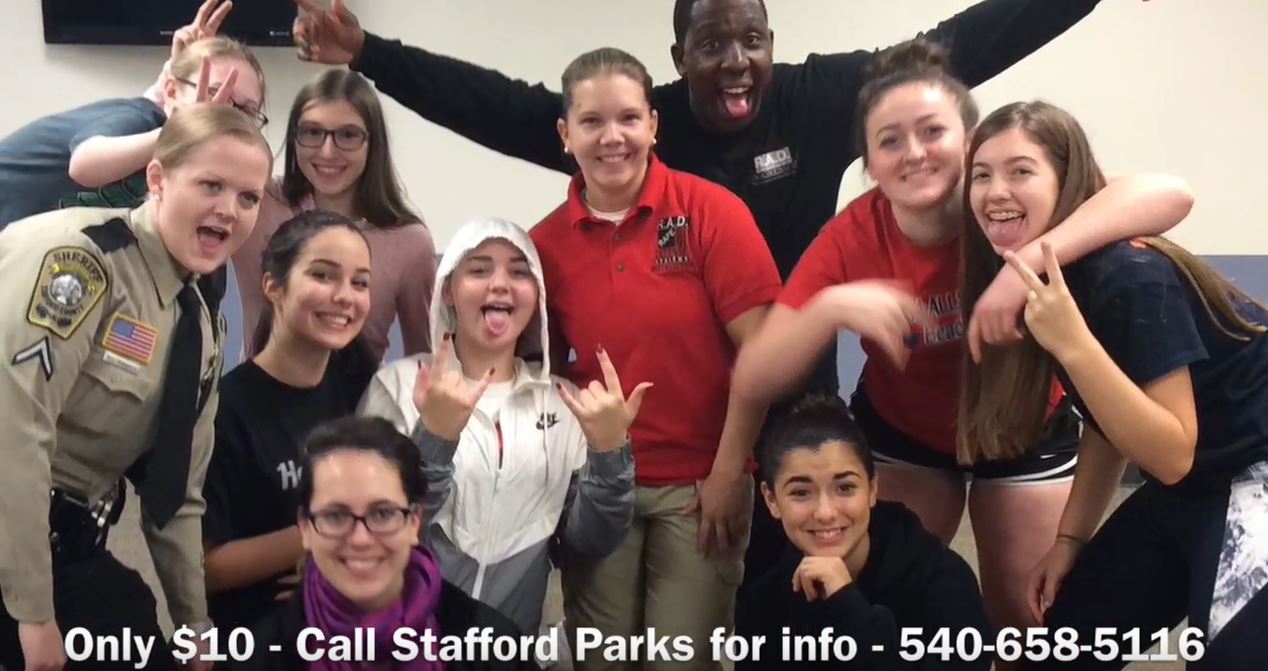 Tuesdays - February 6-27, 2018, 6:00 pm - 8:30 pm
Wednesdays - August 9 - 30, 2017, 6:00 pm - 8:30 pm
- Age: Women ONLY ages 12 and older
- Cost: $10 - Location: Stafford County Sheriff's Office (1225 Courthouse Rd.)
- Questions: Sgt. M. Gibbons 540-658-4020
- Registration: Stafford Parks & Rec 540-658-5116 or www.staffordparks.com
- Class limited to 25
What is a R.A.D. Class?
The Rape Aggression Defense (RAD) System is a program of realistic, self-defense tactics and techniques. It is a comprehensive course for a woman that begins with awareness, prevention, risk reduction and avoidance, while progressing on the basics of hands-on defense training.

R.A.D. is not a martial arts program. Our courses are taught by certified R.A.D. instructors and provide you with a workbook/reference manual. This manual outlines the entire physical defense program for reference and continuous personal growth. The R.A.D. Systems of Physical Defense is currently being taught at many colleges and universities. The growing, widespread acceptance of this system is primarily due to the ease, simplicity and effectiveness of our tactics, solid research, and unique teachin
g methodology.

The R.A.D. Systems is dedicated to teaching women defensive concepts and techniques against various types of assault, by utilizing easy, effective and proven self-defense tactics. Our system of realistic defense will provide women with the knowledge to make an educated decision about resistance.
Why R.A.D.?
With over 3500 instructors certified and nearly 160,000 women trained, R.A.D. Systems is the country's largest and fastest growing self-defense programs for women and children.

The R.A.D. Systems curriculum is taught at over 400 colleges and universities across the United States and Canada, and is the only self-defense program ever to be endorsed by the International Association of Campus Law Enforcement Administrators (IACLEA).

R.A.D. is an international alliance of thousands of instructors united in offering practical options for responding to increasing acts of violence against women.

The mission of Project Lifesaver is to use state-of-the-art technology to assist victims of Alzheimer's and other related mental Dysfunction Disorders (ARMD), including Down's Syndrome and Autism, who become lost. Members wear a personalized bracelet that emits a constant tracking signal. Each wristband has a unique radio frequency enabling the search team to positively locate and identify a missing person. CLICK HERE for a brief introduction to the program.

To request an information packet to be sent to you, please fill out this FORM. Questions can be directed to Deputy Jim Hamilton at 540-658-4112 or jhamilton@staffordcountyva.gov.