Public Safety Center
Ford T. Humphrey Building
Mailing Address:
P.O. Box 189
Stafford, VA 22555
Physical Address:
1225 Courthouse Rd.
Stafford, VA 22554
Information:


"Dedicated, innovative people, working with the community, to serve and protect Stafford County while using the best tools and technology available."

Watch this brief video from our
Homeland Security and Emergency Management Unit
to learn about suspicious activity and how you can report it.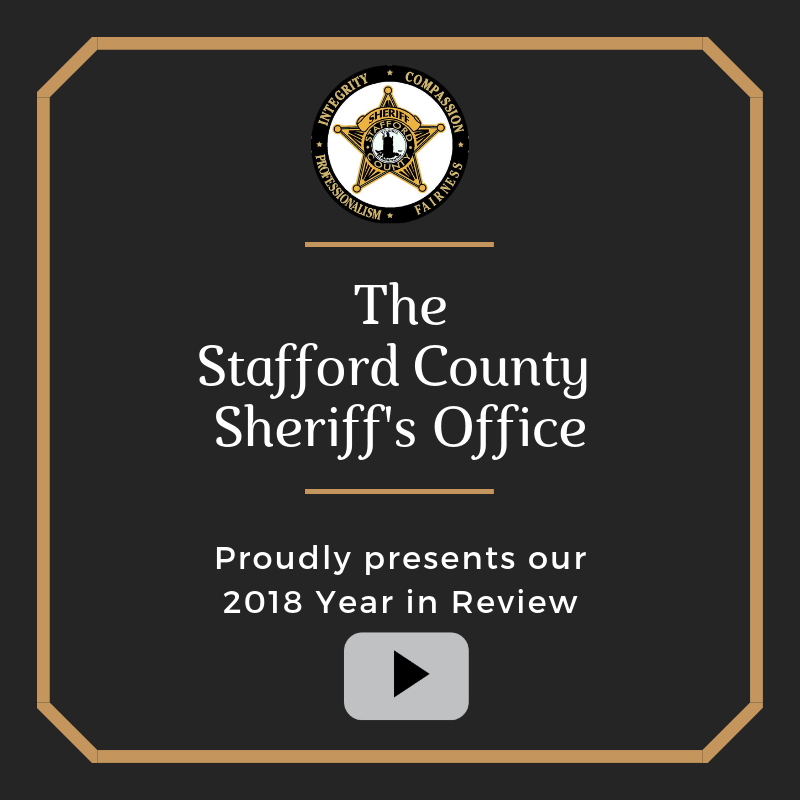 | | | |
| --- | --- | --- |
| Event | Date | Details |
| TRIAD End of Life Workshop Series | | |
| Crime Solvers Shredding Event | April 6, 2019 | For more information, |
| | | |
Stafford Sheriff's Office Apprehends Suspect for DUI after Hitting Sign

Public Information Officer Amanda Vicinanzo, March 21

Stafford, VA. A suspect was arrested on Wednesday by deputies with the Stafford County Sheriff's Office for driving under the influence after a witness observed her hit a sign and continue traveling on Warrenton Road.

On March 20, 2019, at approximately 5:59 p.m., Deputy Forman responded to reports of a reckless driver traveling northbound on Warrenton Road in the area of Plantation Drive. A witness ... (Full Story & Photos)


Stafford Sheriff's Office Apprehends Suspects behind Larcenies

Public Information Officer Amanda Vicinanzo, March 19

Stafford, VA. Two suspects behind recent larcenies were apprehended on Monday afternoon by deputies with the Stafford County Sheriff's Office.

On March 18, 2019, at approximately 1:39 p.m., Deputy Torrice responded to reports of a stolen package at a residence on Nugent Drive. Upon arrival, a resident provided the deputy with Ring video footage showing a male subject run up to the porch, grab the ... (Full Story & Photos)



Tahari Turk


Body of Missing Person Found in the Rappahannock River

Public Information Officer Amanda Vicinanzo, March 15

Stafford, VA. The body of a missing male subject was found in the Rappahannock River late on Thursday night. The Stafford County Sheriff's Office is currently investigating the incident.

On March 14, 2019, at approximately 10:58 p.m., units responded to reports of a body found in the Rappahannock River. Two fishermen had observed what appeared to be a body floating in the river near the Little Falls ... (Full Story)





UPDATED: Stafford Sheriff's Office Releases Update on Homicide Investigation

Public Information Officer Amanda Vicinanzo, March 14

Stafford, VA. The Stafford County Sheriff's Office in collaboration with our law enforcement partners has determined that the body of the homicide victim discovered near River Road in Stafford County on Saturday was killed in a jurisdiction in Maryland.

On Saturday, March 9, 2019, at approximately 4:50 a.m., a deputy with the Stafford County Sheriff's Office was driving down River Road when he observed ... (Full Story)




Active Shooter Countermeasures