Public Safety Center
Ford T. Humphrey Building
Mailing Address:
P.O. Box 189
Stafford, VA 22555
Physical Address:
1225 Courthouse Rd.
Stafford, VA 22554
Information:


"Dedicated, innovative people, working with the community, to serve and protect Stafford County while using the best tools and technology available."

The Stafford County Sheriff's Office is committed to providing service to the citizens of Stafford County during these uncertain times
.
At this time, the lobby of the Ford T. Humphrey building is open for business. The lobby is marked to allow for social distancing.
IF YOU HAVE AN EMERGENCY, PLEASE DIAL 911
As always, you can report an incident/crime by phone at 540-658-4400. You may also report an incident/crime by clicking on the "Forms/Resources" tab above and then by clicking "Report a Crime or Incident"

Join our new and improved Shield Program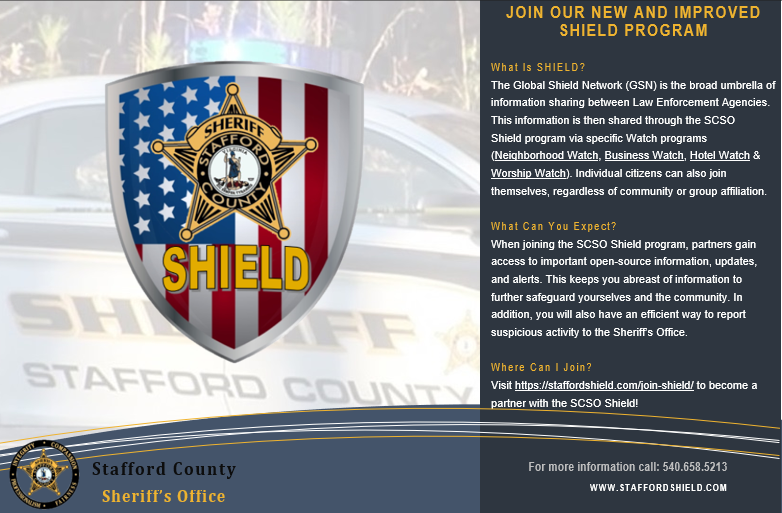 Wanted of the Week

Public Information Officer Sarah Maroney, May 13

On April 29 at 2 p.m., deputies responded to the England Run area for a report of two males operating a dirt bike and an ATV on the roadway. They were seen riding into oncoming traffic and illegally riding on public highways endangering motorists. The suspects fled when a deputy attempted a traffic stop.

The driver of the motorcycle has been identified and arrested. The second suspect who was operating ... (Full Story & Photos)


Suspects Arrested, Gun Recovered After North Stafford Pursuit

Public Information Officer Sarah Maroney, May 07

Two subjects were arrested yesterday afternoon after fleeing a fight in progress call in Garrison Woods and leading deputies on a pursuit through North Stafford.

At 12:33 p.m., deputies responded to Garrison Woods subdivision for a report of a fight in progress. The complainant reported a subject was trying to break into an apartment and was armed with a knife or gun. The suspect got into a black ... (Full Story & Photos)


Can You Identify?

Public Information Officer Sarah Maroney, May 06

The Stafford County Sheriff's Office is investigating a shoplifting that occurred at Walmart (11 Village Parkway) on April 29 at 12 p.m.

The suspects concealed merchandise in a bag while in the store. They then proceeded to self-checkout and paid for some items in their shopping cart, but left the store without paying for the items they concealed. They were seen leaving in a white SUV.

Anyone with ... (Full Story & Photos)

Runaway

Public Information Officer Sarah Maroney, May 05

The Stafford County Sheriff's Office is searching for 17-year-old Nayra Bonilla.

She is 5'6" tall, weighs 205 pounds, and has brown hair and brown eyes.

Anyone with information on Nayra's whereabouts is asked to contact the Sheriff's Office at (540) 658-4400.... (Full Story & Photos)

Active Shooter Countermeasures
FY2020 Edward Byrne Memorial Justice Assistance Grant (JAG) Program