Introduction
One of the most important lessons the nation learned in the aftermath of the terrorist attacks on September 11, 2001 is the importance of collaboration between local law enforcement and their communities. Community-oriented policing efforts at the local level play a significant role in combatting threats facing the homeland.
The Department of Homeland Security (DHS) has been aggressively pushing the idea that homeland security begins with hometown security, and that local authorities need to be empowered to work with their communities to develop community-based solutions to counter violent extremism and other types of crime.
The Stafford County SHIELD program is the platform between the community and the Stafford County Sheriff's Office tha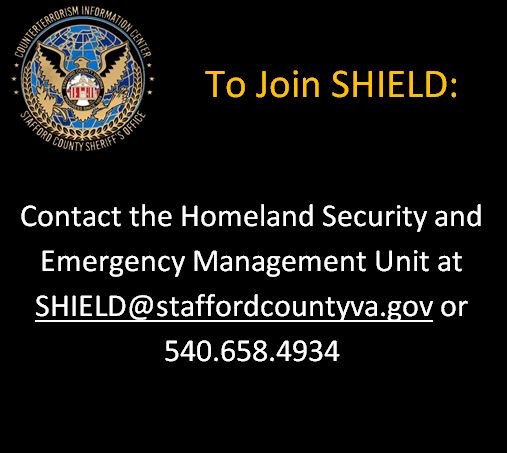 t allows information to flow back and forth.
What We Do
SCSO SHIELD keeps its partners informed of upcoming events, new intelligence and crime information developing in Stafford County as well as identified events abroad.

Information is researched and transmitted directly to our partners by one of several methods:

Presentations and briefings
E-mail alert messages
Activity postings via email and website
SHIELD conferences
What We Ask
The SCSO SHIELD program is a communication two-way street. The key to success is information flowing in two directions. Community partners serve as the eyes and ears of the Sheriff's Office and serve to directly impact efforts to prevent crime and acts of terrorism by reporting suspicious behavior as soon as possible.

In addition, we recognize that our community partners are uniquely qualified to assist Sheriff's Office personnel during an incident. You know what belongs and what is out of place. Sharing your perspective and working together, we are better prepared to face the most difficult challenges.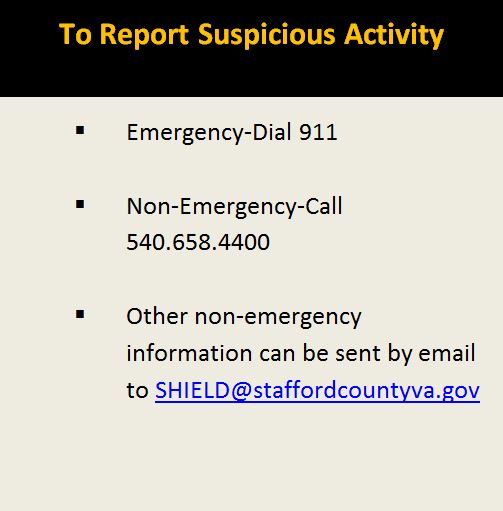 Getting Started
The process for connecting with the SHIELD program is a simple one. Follow the steps below to begin:

1. Contact the Sheriff's Office at 540-658-4934 and ask about the SHIELD program.
2. Select a coordinator for your group or organization.
3. Participate in a SHIELD training session.
4. Working with the Sheriff's Office, develop mechanisms for sharing information.


Why Join SHIELD?
We have a shared responsibility to provide for the safety and security of our community. Your Sheriff's Office serves as the tool to accomplish this task; however, only by partnering together can we achieve success.

As a member of the SHIELD program, you will have an opportunity to take an active role in helping to make Stafford a wonderful place to live, work, and raise a family.

Benefits of SHIELD
Designated Sheriff's Office personnel to serve as liaisons with program partners.
Provide partners with up-to-date electronic notices about community crime trends and identified terrorist events.
Informative conferences to ensure updated information and training opportunities.
Identify and create opportunities for networking of resources in times of community need.
Provide materials and resources to educate partners on areas of public safety and security.
SHIELD Facts
SHIELD was created in partnership with NYPD SHIELD and reaches beyond the borders of Stafford County to keep our community partners informed.
SHIELD is a force multiplier that significantly increases the effectiveness of the Sheriff's Office crime prevention and terrorism efforts through community partnerships and information sharing.
SHIELD provides community organizations with information on emerging crime trends, community events and evolving terrorist threats that may impact Stafford County.
SHIELD is the central destination for community organizations to obtain information and engage Sheriff's Office resources.