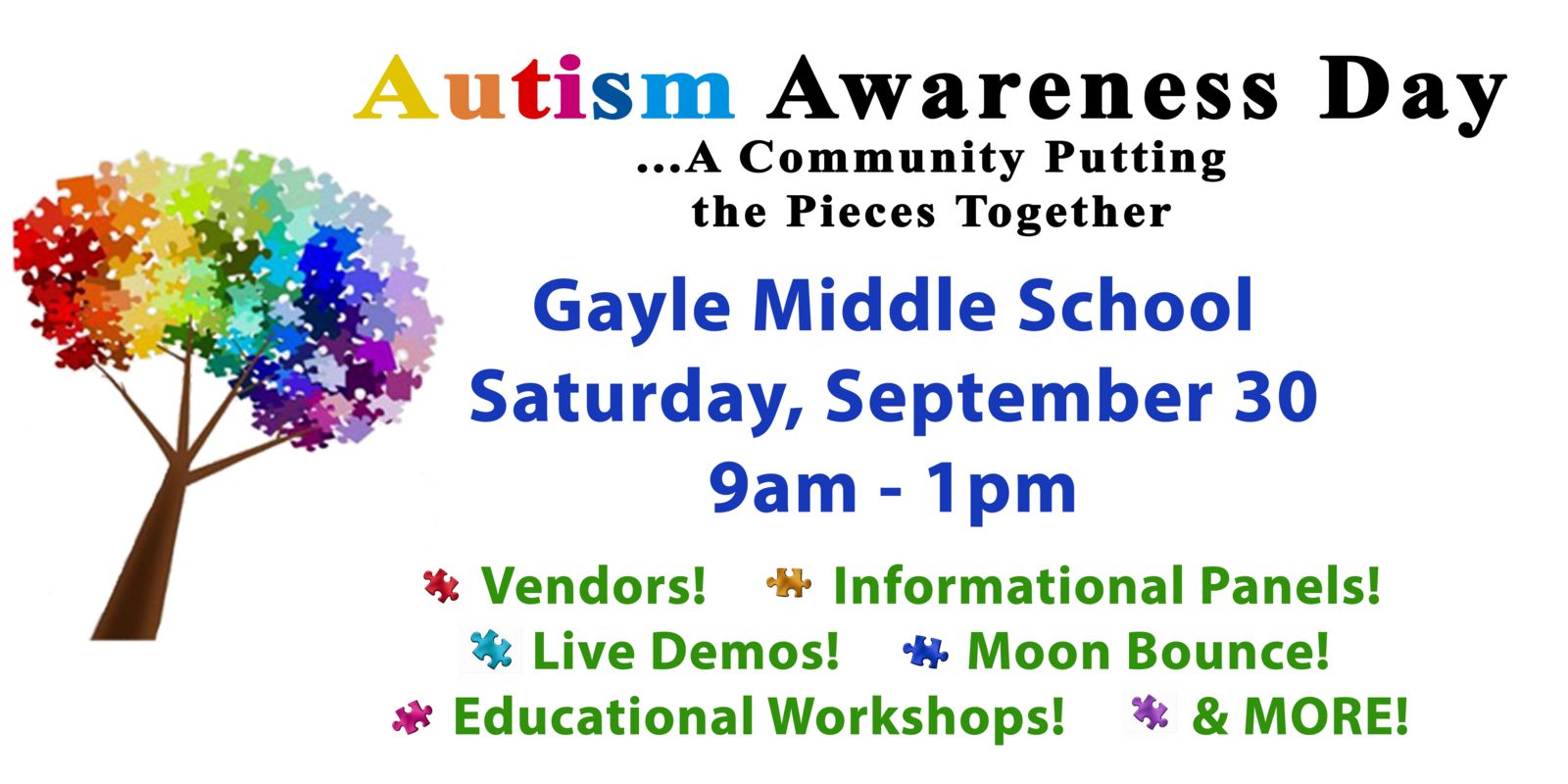 The Stafford County Sheriff's Office will be holding its first annual Autism Awareness Day ...A Community Putting the Pieces Together in conjunction with Helping Hands, Inc. Pediatric Therapy Services.
Autism Awareness Day is an annual autism community-building event that promotes awareness and education and provides resources to enable our community as a whole to understand and support those on the spectrum. Help promote this event by sharing the event flyer by clicking HERE.
Click HERE for the event program.

SOCIAL STORIES
Going to a Big Event - Click HERE for the PDF.
Emergencies in the Community - Click HERE for the PDF.
INFORMATIONAL PANELS

Autism 101: Professional, Families with New Diagnosis and Spanish as presented by Autism Society of Northern Virginia
9:15 am - Autism 101 for Families
10:15 am - Autism 101 for Professionals
11:15 am - Autism 101 in Spanish
Want to know more about autism? Autism 101 teaches you what it means to have autism, the symptoms of autism, treatment options, how to support autistic children and adults, and more. If you already know the basics and have specific questions about waivers, IEP, housing, or other topics, come to our Lunch Bunch or Lunch and Learn programs (see below).
There's no shortage of information about autism. In fact, the sheer amount of information available online can be overwhelming. But mixed in with plenty of good information are persistent myths, misconceptions, contradictory advice, and even dangerous fad treatments. Autism 101 is a program that pulls together accurate and important basic information for you. It's run by ASNV along with our partners, including therapists, experience parents, educators, and even experts on special needs law and finances. We also make sure to leave time for you to ask any questions you might have.
Who can benefit from Autism 101?
Parents whose child has or may have autism, and other family members

Individuals of any age who are newly diagnosed, and their friends and family

Employers who want to understand the needs and experiences of their autistic employees

Individuals involved in politics or advocacy who need an understanding of autism to make decisions

Members of the general public who have heard of autism and are curious about what it is

Teachers or anyone involved in the education system who are confused about where autistic children fall in terms of special education needs or want to understand their autistic students better

Anyone else!
Stafford County Sheriff's Office School Resource Officers (SRO): Elementary, Middle and High School
9:15 am - all grades
10:15 am - all grades
11:15 am - all grades
Do you know each Stafford County school has a deputy assigned to them? Do you know who your child's SRO is? Do you know what role they play in the school's environment? If you answered "no" to any of these questions, attend one of the three panels that is right for you.

EDUCATIONAL WORKSHOPS

9-1-1 Simulator: Mock emergency call experience
ongoing from 9:00 am - 1:00 pm

Stafford County Public Schools: Special Education Programs
9:15 - 10:00 am
The session will provide a snapshot of instruction and behavioral practices provided to support students on the spectrum ranging in ages from preschool to postsecondary as well as the continuum of possible service options. These practices are designed to promote learning, enhance social skills and encourage independence. This presentation will provide links to resources and introduce the services available through the SCPS Parent Resource Center.
Occupational Therapy and you...the Staff of Helping Hands, Inc.: Supports across all settings
10:15 - 11:00 am
Join us as we explain what Occupational Therapy is and how it can support you or your child across the lifespan. We will discuss strategies to support positive behaviors, successful sensory regulation and independence at school, home and in the community.

Paragon Autism Services
11:15 am - 12:00 pm
Does your child display undesirable behaviors? Do you want to learn why your child behaves they way they do? This presentation will teach you to utilize basic ABA strategies to decrease inappropriate behaviors in children with autism. Learn how to identify and utilize antecedent and consequence strategies to decrease dangerous and undesirable behaviors, as well as increase more socially acceptable and safe behaviors.

DEMONSTRATIONS

Service Dogs by Warren Retrievers (SDWR)
ongoing from 9:00 am - 1:00 pm
The Stafford County Sheriff's Office will have demonstrations from several of their Special Operations Units.

Unmanned Aircraft Systems (UAS) Unit, Civil Disturbance Unit (CDU), SWAT
ongoing from 9:00 am - 1:00 pm

Motors
10:00 am, 11:00 am, 12:00 pm

K-9 Unit
10:30 am, 11:30 am, 12:30 pm

Project Lifesaver (radio frequency tracking technology)
10:45 am

ACTIVITIES

Project Lifesaver and Address Flagging in Emergency Communications Center systems

Bounce House

Child ID Kits

Obstacle Course
Sensory-friendly carnival

Sparky and McGruff Mascots

Barrel Train

Community Art Project

EXHIBITOR REGISTRATION
Exhibitor registration is closed. Click HERE for the 2017 Exhibitor List.
Important Dates:
Saturday, September 30 @ 7am - Exhibitor set-up begins
For further information, contact 540-658-4030 or crimeprevention@staffordcountyva.gov.