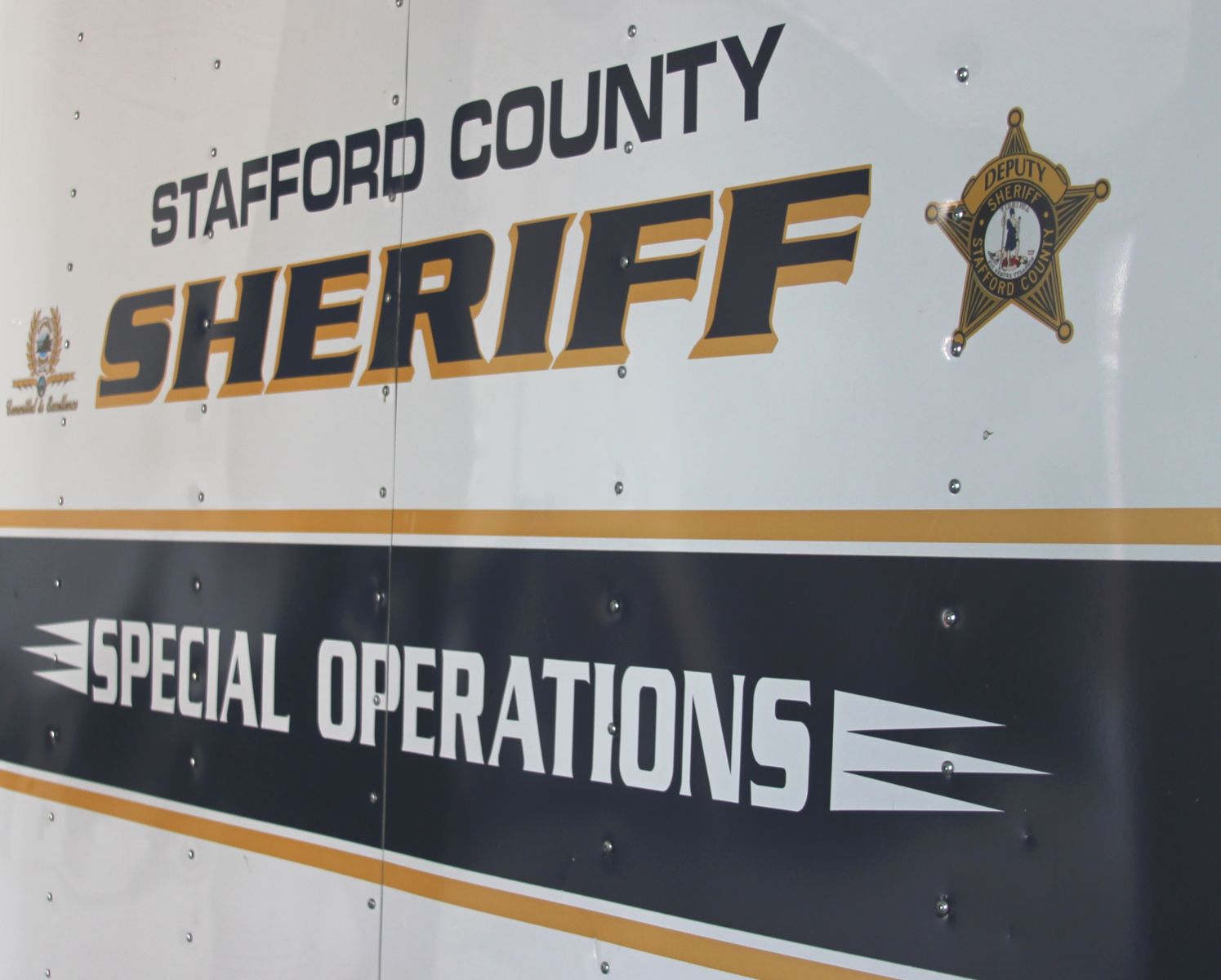 ATV Patrol Team
The ATV Team is a group of specially-trained deputies who specialize in the operation of ATV's and UTV's. The main focus of the team is the prevention, investigation and apprehension of subjects violating property rights of land owners where the travel of a traditional Sheriff's vehicle is not possible. The team is also utilized for Search & Rescue Operations and during such special events such as DARE Day, National Night Out and the Stafford County Christmas Parade where a UTV or ATV can respond to an emergency faster and safer than a larger patrol vehicle.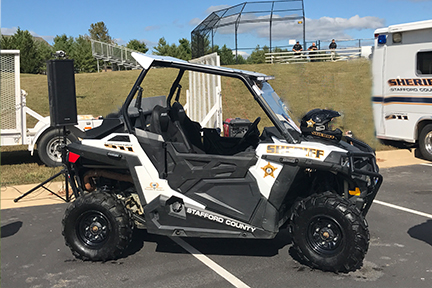 Bike Patrol Team
The mission of the Bike Patrol Team is to use the advantage of bicycle patrol to compliment community relations and criminal enforcement operations. Bike patrol deputies have the advantage of being able to traverse and patrol many areas in the county where vehicles cannot. Bike patrol deputies are capable of maneuvering swiftly and safely through residential and business areas. Bicycles are often silent and difficult to see, providing the bike patrol officer with an advantage when attempting to apprehend offenders who are in the process of committing crimes. The Bike Patrol Unit also participates in community service events such as for Bike Rodeos, National Night Out, DARE Day, July 4th festivities, etc. Deputies at these events demonstrate bicycle safety, as well as check bicycles and helmets to ensure they are being used safely and properly.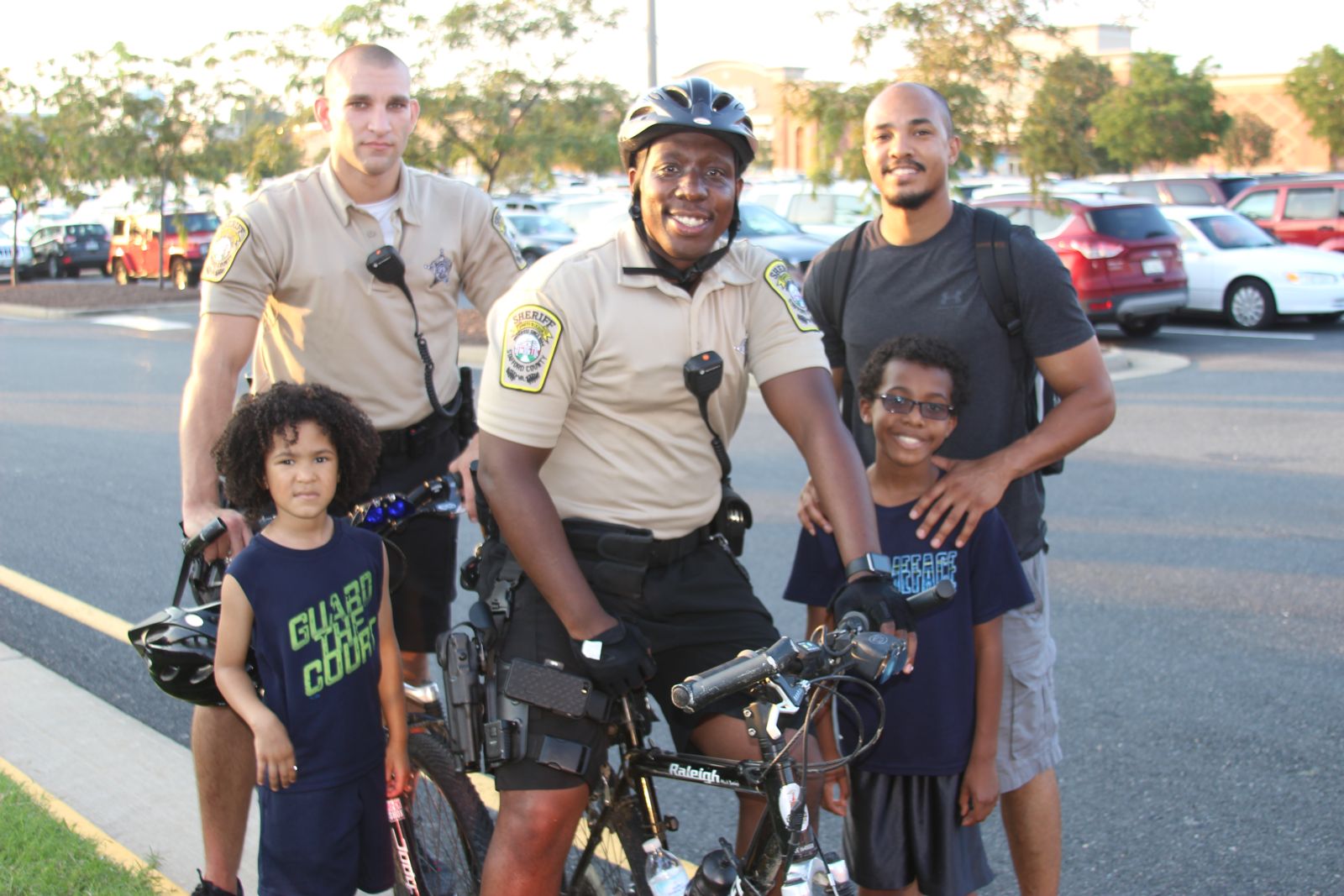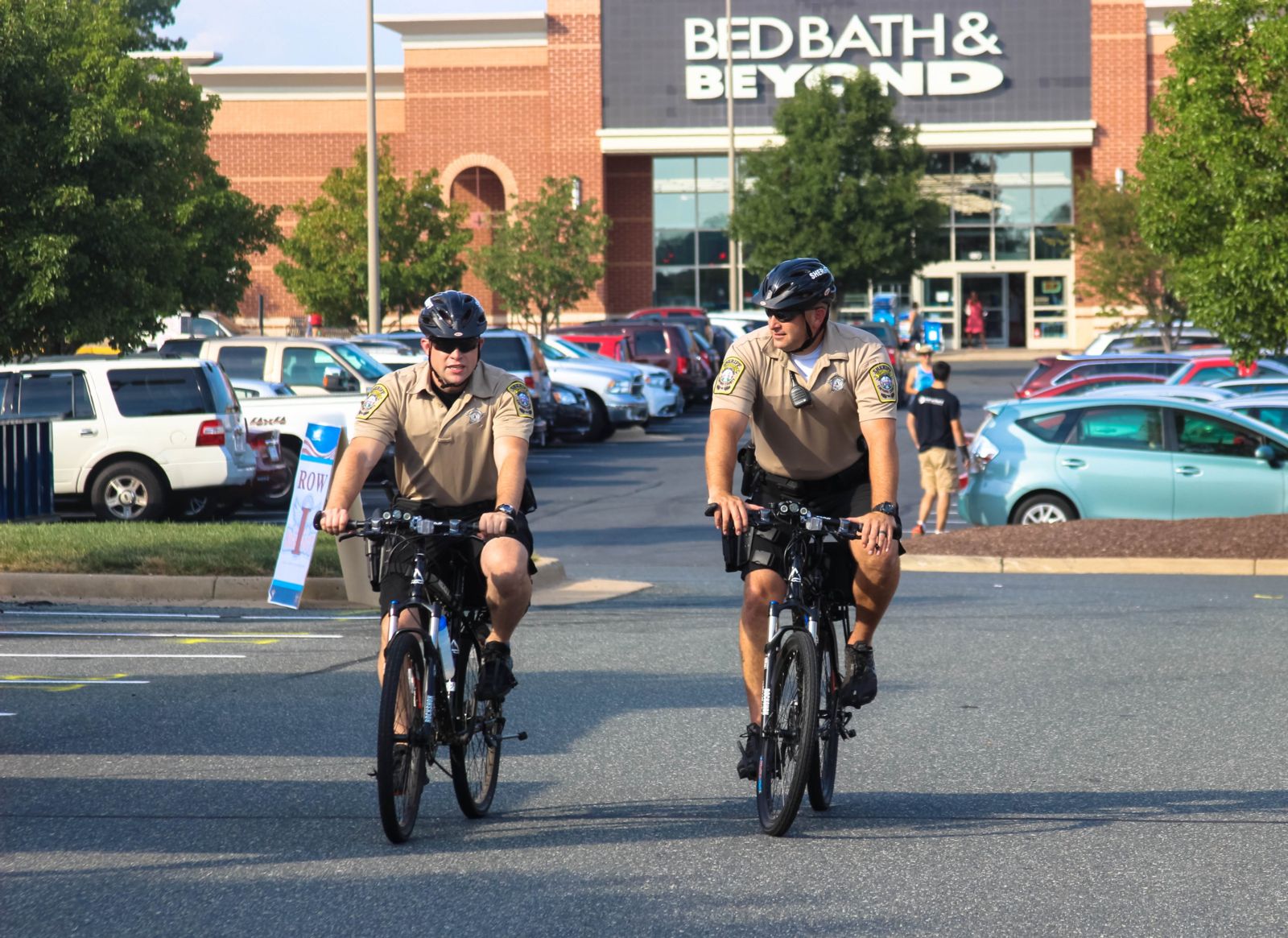 Civil Disturbance Unit
In existence since 2016, the Civil Disturbance Unit is a group of deputies specifically trained to handle large-scale protests or acts of disorderly behavior. Deputies assigned to CDU Rescue Training have the following disciplines - crowd dynamics, intelligence gathering, First Amendment protections, protestor tactics, damage control, first-aid/CPR and many other related topics. CDU members receive training through partnerships within the National Capital Region as well as FEMA's Center for Domestic Preparedness. All are necessary to protect the interests of property owners, protestors and the intended targets of their message.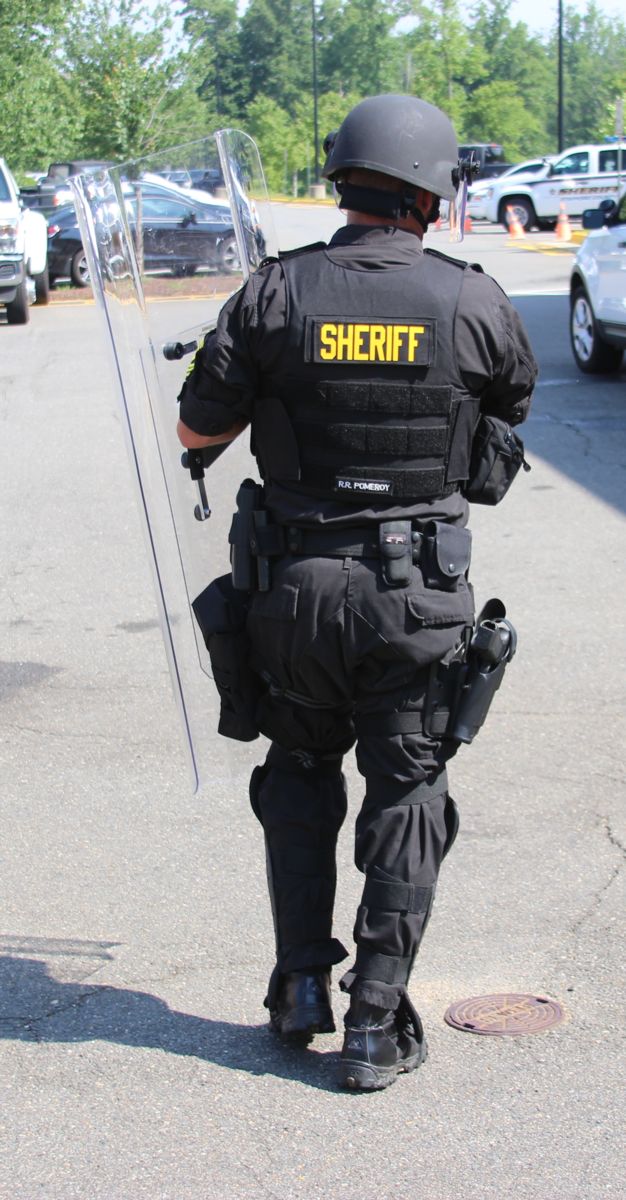 Commercial Motor Vehicle Team
The Commercial Motor Vehicle Safety Unit promotes commercial vehicle safety through vehicle inspections and post-crash inspections involving commercial vehicles. CMV inspectors also conduct weight enforcement details to reduce the number of overloaded and or overweight vehicles that pose safety concerns to the motoring public as well as the national infrastructure.

Crime Scene Technicians
Crime Scene Technicians in both the Field Operations Division and Criminal Investigations Division respond to major crime scenes such as burglaries, robberies and death scenes. CST's receive advanced training in evidence collection, photography, sketching, latent fingerprint processing and DNA collection. Their duties include documenting crime scenes and evidence processing. After processing the scene, CST's submit the recovered evidence for scientific analysis to the Department of Forensic Science. CST's are often called upon to testify in court as subject matter experts and are an integral part of the conviction process.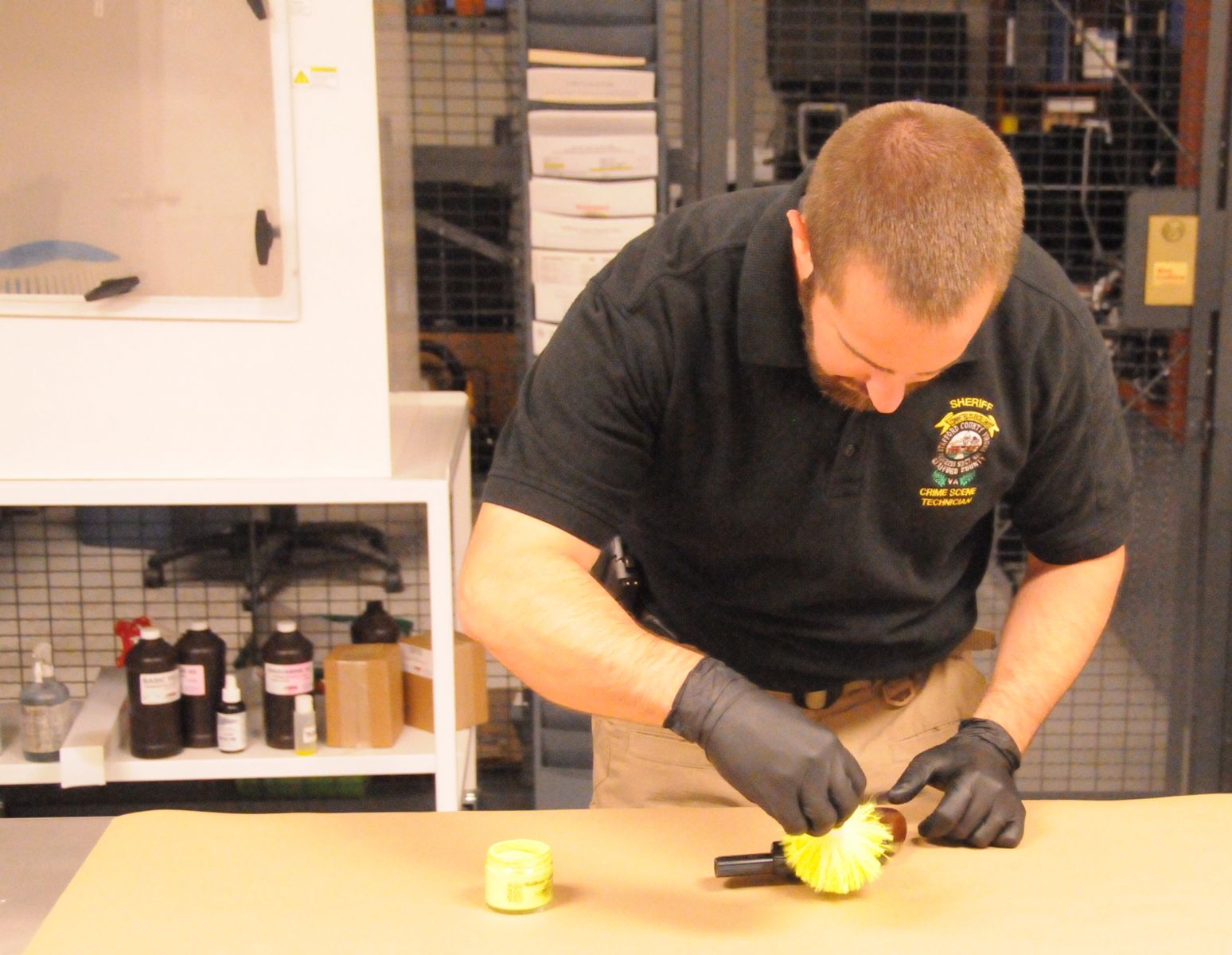 Crisis Intervention Team
The Crisis Intervention Team (CIT) is a group of specialized deputies who have received extensive training in recognizing and dealing with citizens suffering from mental illness. The Team was created in 2009 utilizing a model of training originating in Tennessee which gives first responding officers/deputies the skills to deescalate dangerous situations using verbal skills. These skills along with recognition of different types of mental illness are conducted during a 40 hour training taught by both law enforcement and mental health professionals. Since the inception of the program, the Sheriff's Office has maintained the largest CIT program in the area. During the seven years the Sheriff's Office has maintained a Crisis Intervention Team, the highly trained deputies have saved numerous lives and changed the lives of countless more through positive interactions with law enforcement. This team is unique as it has no maximum number of members and; therefore, adds new members committed to better serving the citizens of Stafford County each year.

Crisis Negotiation Team
The Crisis Negotiation Team consists of 14 team members from various sections of the Sheriff's Office that are specially trained to deal with people that are experiencing a traumatic event. The Crisis Negotiators respond to incidents where persons are in a crisis, hostage situation or threating to harm themselves or others. To become part of the team, each member must attend a 40 hour training school with the FBI. The team holds training once a month and also trains with the Stafford SWAT Team as well as other jurisdictions.

Dive Team
The Dive Team is a group of trained deputies who specialize in underwater search and recovery. The main focus of the team is the preservation, documentation and recovery of evidence and victims located in the waterways of Stafford County. Currently the team has three Master Underwater Criminal Investigators who are experts in the recovery and documentation of all types off evidence ranging from weapons to vehicles. This team utilizes dry suits, full face dive masks and a Side Scan Sonar which allows them to locate and recover evidence year round. Currently, the Dive Team members are in the process of updating training equipment that would allow them to provide a swift water rescue capability to the community. This ability, along with the expertise in evidence and vehicle recovery and Sonar capabilities, will make the Stafford Dive Team one of the most capable, well-rounded teams in the region. Team members are receiving training and equipment that will certify them in Swift Water Rescue.

FTO - Field Training Officer
Being a Field Training Officer (FTO) is one of the most important assignments for which a deputy can volunteer. After graduating the Police Academy, Field Training provides the backbone for a new deputy to apply academics to real world experience. Our program is eight weeks long and split between two FTO's. The first phase is an introduction to police work and to the geography of Stafford County. The second phase is a gradual shift from being shown what to do and how to do it into an independent deputy making decisions without the FTO's assistance. An FTO at the Sheriff's Office has to have experience and knowledge of the job as well as the ability to teach. Once the process is complete, a deputy is released to independent patrol, potentially becoming the FTO's new squad member or zone partner.

Ground Search and Rescue
The Stafford County Sheriff's Office is responsible for search and rescue missions in the county of Stafford. These searches can involve both missing adults and children for a variety of reasons. While the missions are primarily inside the county of Stafford, the team has been requested many times by the Virginia Department of Emergency Management (VDEM) to assist in searches around the commonwealth, including several high profile searches over the last 10 years in Hanover County, Albemarle County and the Shenandoah National Park.
The Search and Rescue team is comprised of both sworn law enforcement officers employed by the Sheriff and a volunteer group of civilian members. We also partner with the Virginia Department of Emergency Management (VDEM) if further assistance is needed.

Honor Guard Team
The Sheriff's Honor Guard is a team of dedicated deputies whom strive to ensure the Stafford County Sheriff's Office is represented with pride, dignity and professionalism. The Honor Guard takes part in ceremonies, funerals and functions throughout the year. Our most revered duty is to render honor and respect to fallen officers and their families.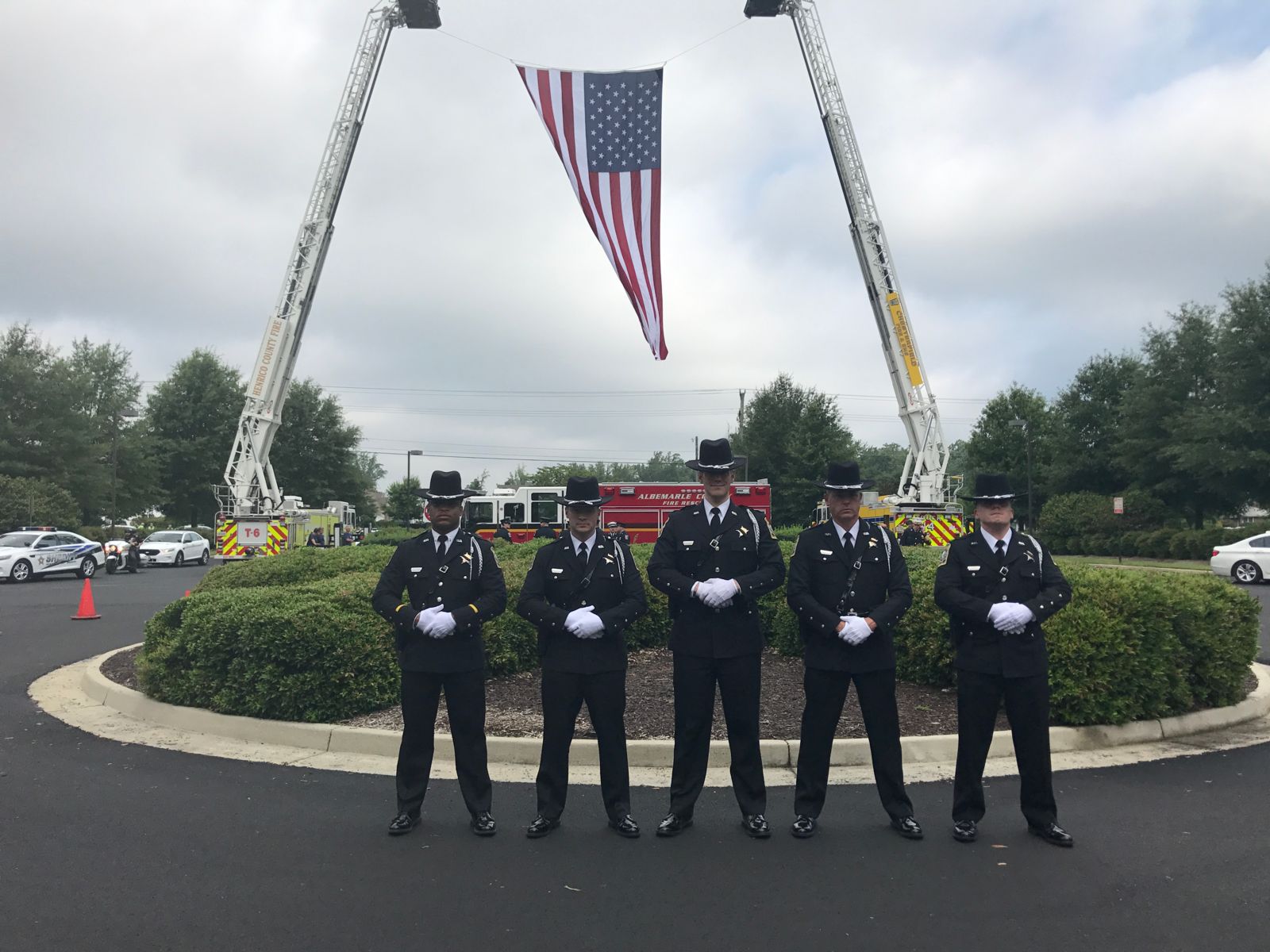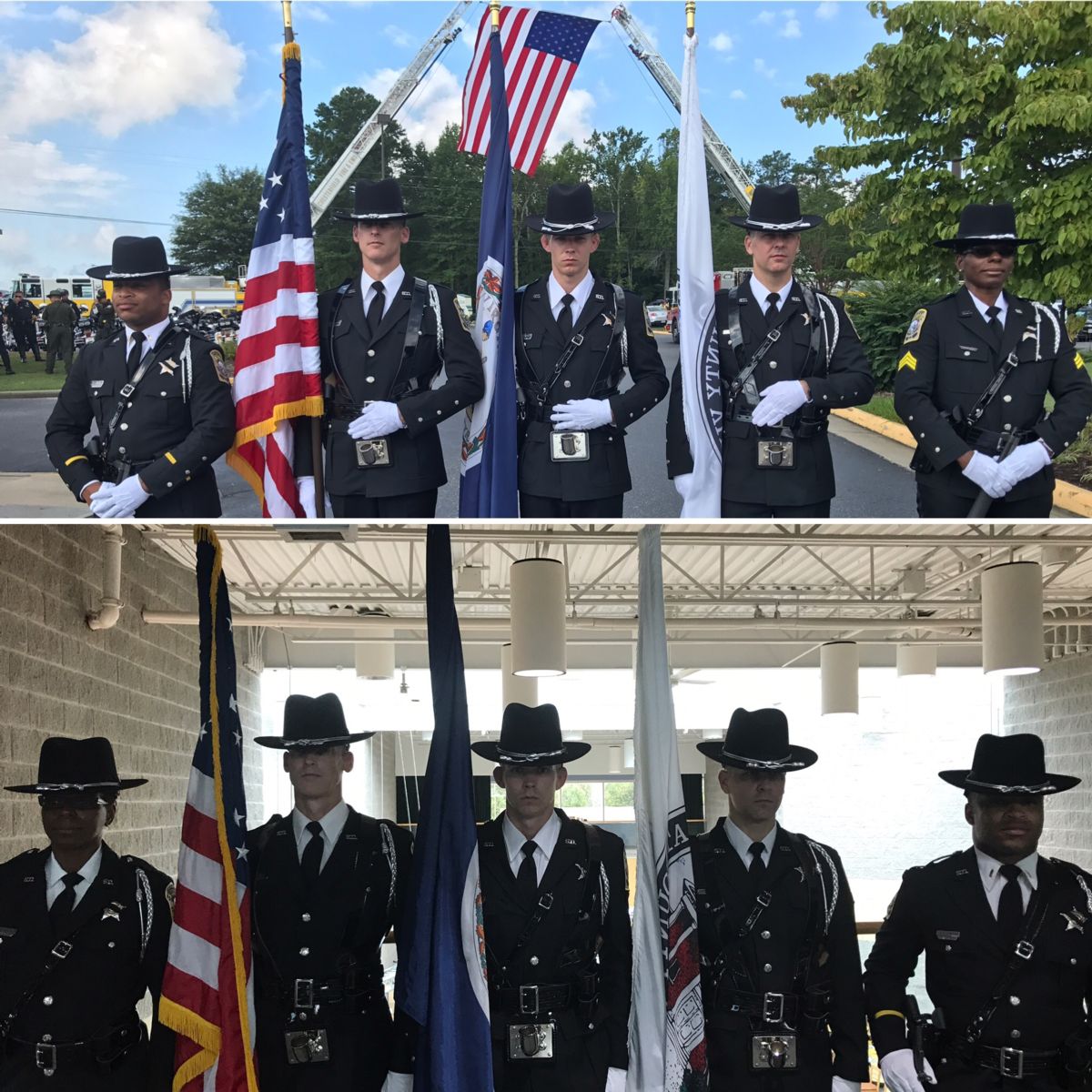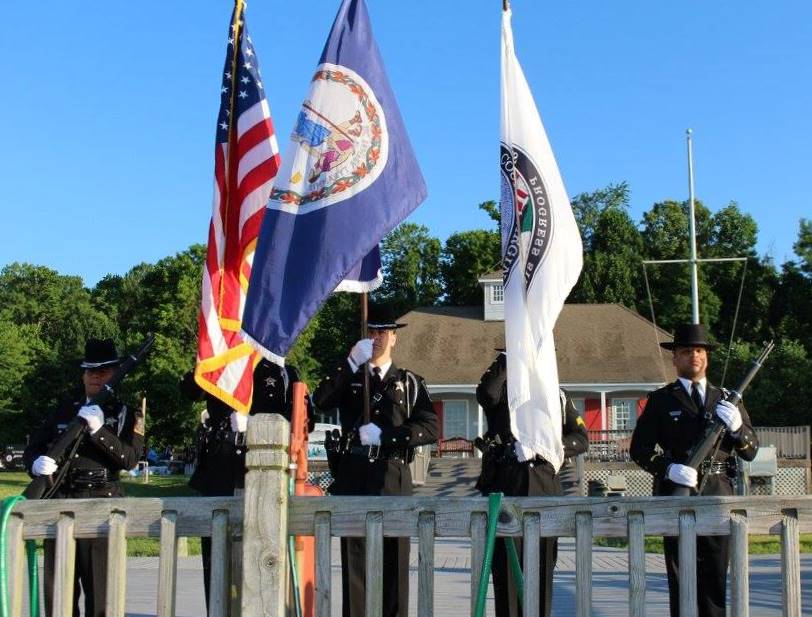 K-9 Team
K-9 handlers perform patrol functions with a specially-trained canine as their partner. These certified canines, which consist of two German Shepherds and two Belgian Malinois, have abilities humans and technology do not possess. Examples of K-9 activities include:
Searching for suspects or missing individuals by tracking or air scenting

Searching the interior of buildings for hidden suspects

Physically apprehending fleeing or fighting suspects

Locating hidden narcotics or explosives

Locating evidence discarded by suspects

Conducting public K-9 demonstrations
Due to the above abilities, a K-9 presence is generally found at all major incidents and high risk missions.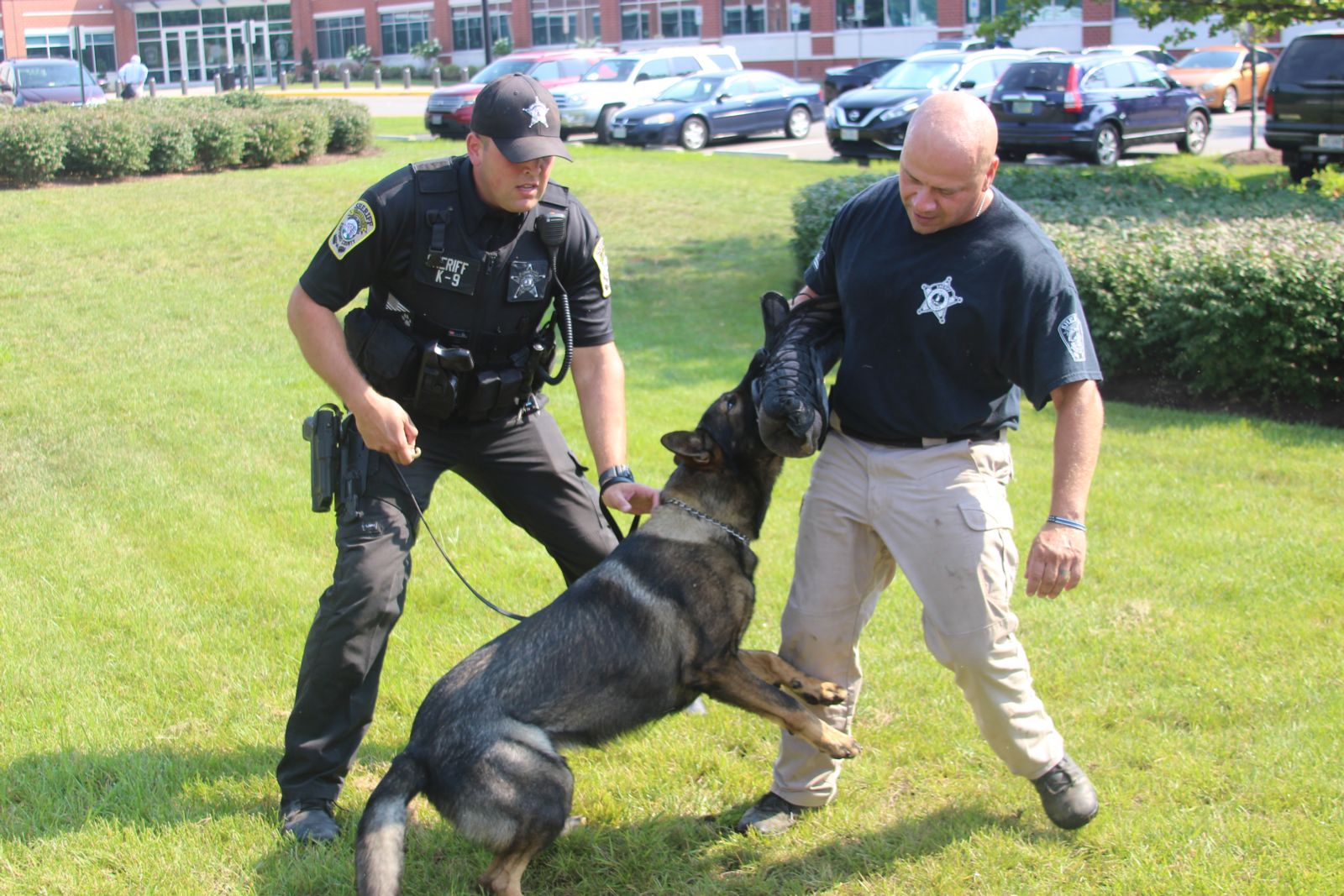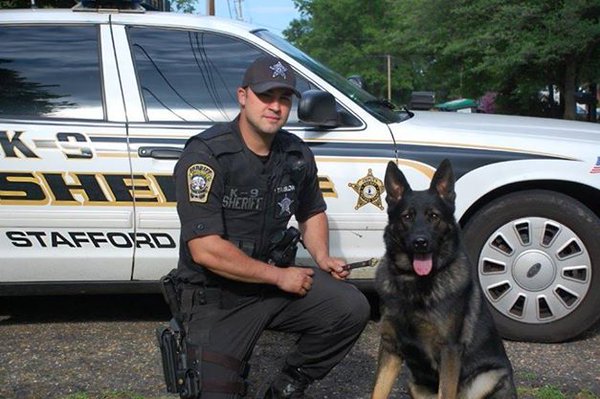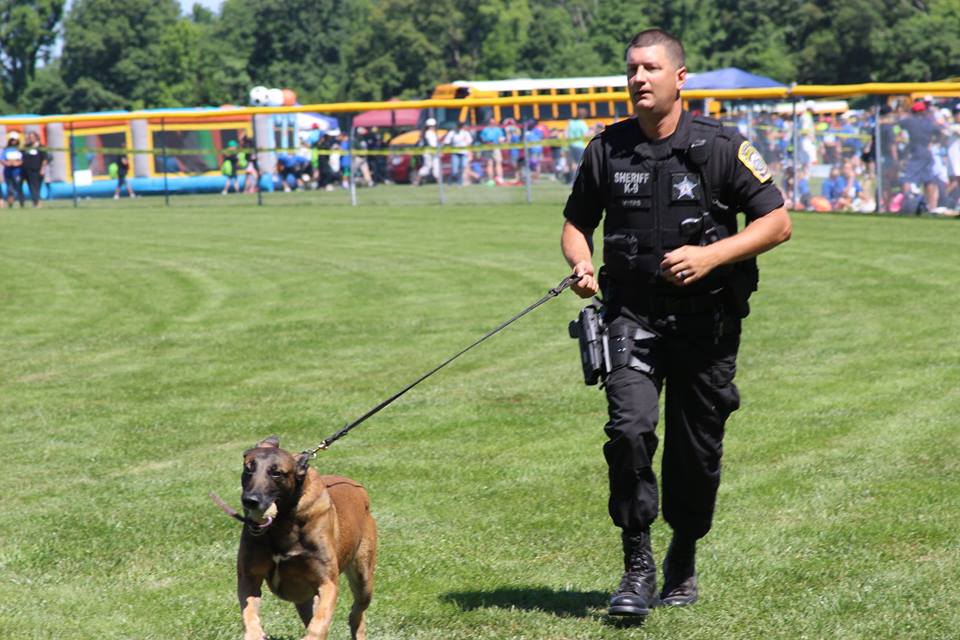 Marine Patrol Unit
The Marine Patrol Unit is responsible for enforcing the laws of the United States, the Commonwealth of Virginia and the ordinances of Stafford County on the waterways of Stafford. The Marine Patrol Unit provides assistance for search and rescue missions and dive team operations. Deputies assigned to marine patrol ensure that all vessels on the waterways are equipped and operated in a safe manner. The team ensures their mission is accomplished through education, community policing and aggressive patrols. The Stafford County Sheriff's Office strives to keep our waters the safest waterways in the commonwealth.
The Marine Patrol Unit trains annually on boat operation, traffic stops, boating under the influence and boating laws.
Stafford County waterways are comprised of the Potomac River and its tributaries, Rappahannock River and four terminal reservoirs Curtis, Able and Smith Lakes and Jason Mooney Reservoir (503 acres). Stafford also has hundreds of other smaller lakes, ponds, and waterways.
Stafford County's portion of the Potomac River includes Aquia Creek, Accokeek and Potomac Creek. Stafford has over 67 miles of shore line on the Potomac River.
Stafford County patrols over 30 miles of the Rappahannock River and its tributaries.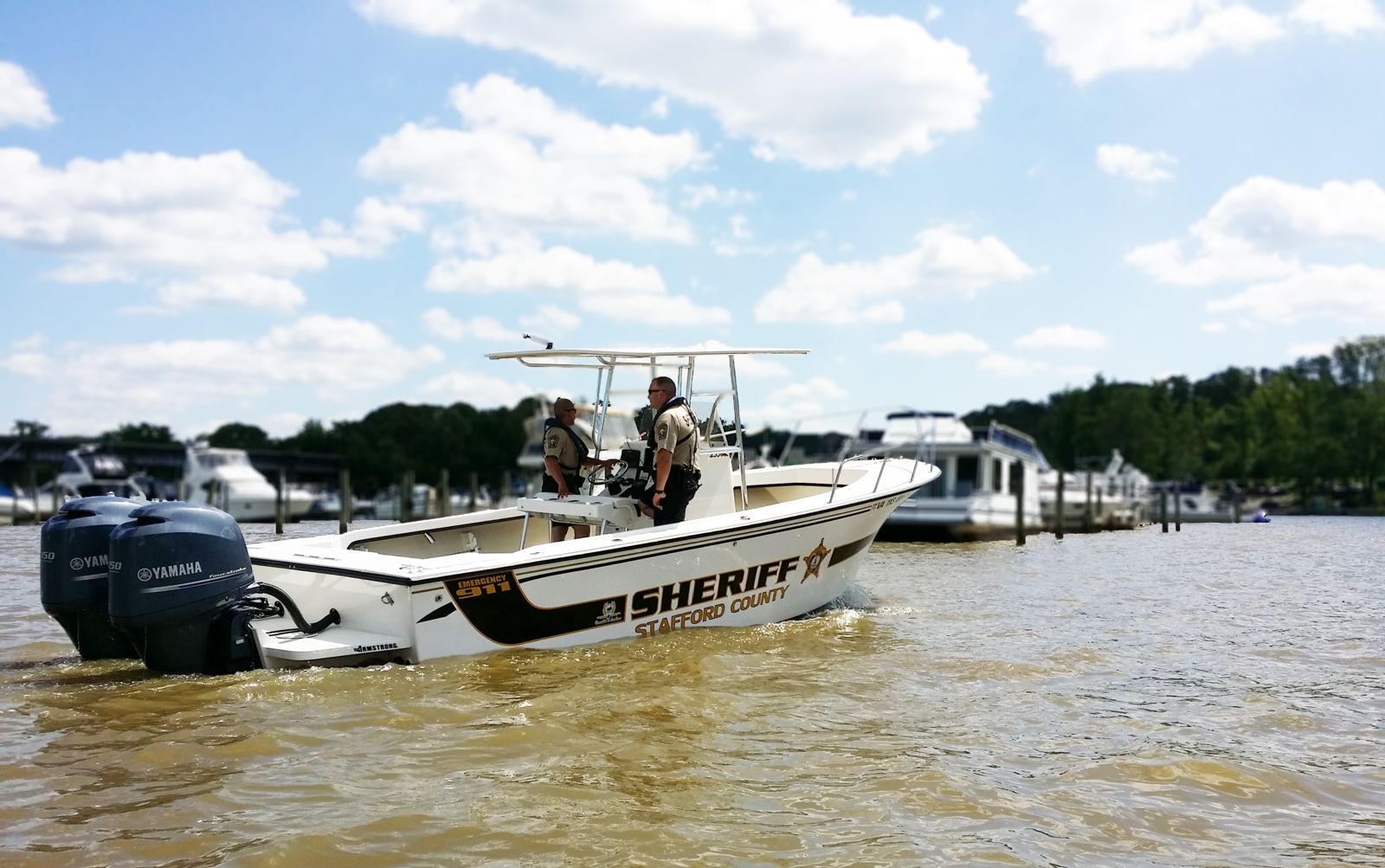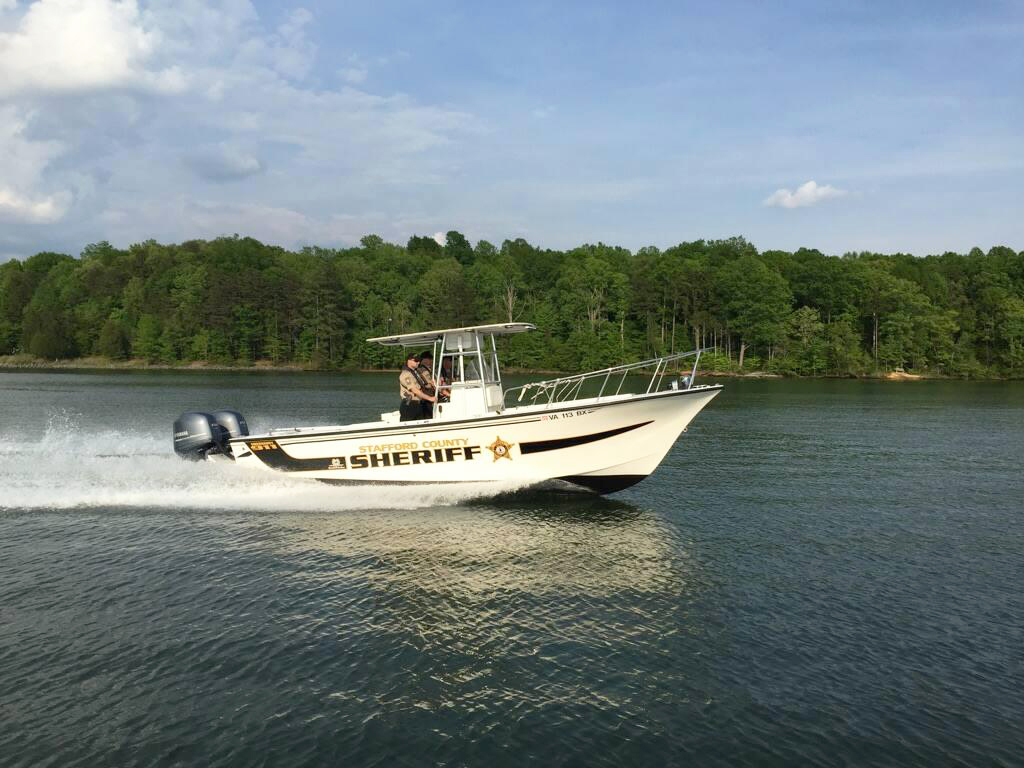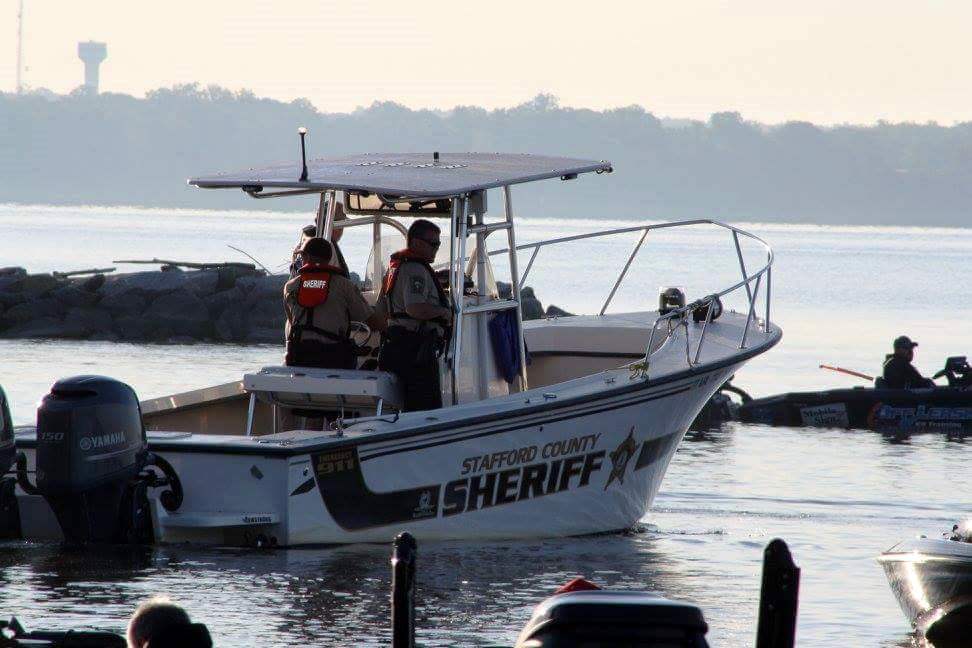 R.A.D. Instructor
R.A.D. is a self-defense course designed for women that begins with awareness, prevention, risk reduction and avoidance, while progressing on to the basics of hands-on defense training. R.A.D. teaches defensive concepts and techniques by utilizing easy, effective, and proven self-defense tactics.
The RAD Team is comprised of various members of the Sheriff's Office to include a volunteer. The requirements to become a RAD for Women Instructor include an application process. Men who teach must either be in law enforcement or military and complete an application. The RAD Instructors complete a 3-day training course prior to their certification and must teach two classes per year in order to maintain that certification. The RAD Instructors typically offer four classes per year in conjunction with the Parks and Recreation schedule. We also teach classes upon requests from groups.

SWAT Team
The SWAT team is used for situations beyond the capabilities of normal patrol operations, sometimes deemed "high-risk." To deescalate these situations, the SWAT team is equipped with specialized less lethal firearms and devices, riot control agents and stun grenades. In addition, they may use specialized equipment including heavy body armor, ballistic shields, entry tools, armored vehicles, night vision devices and remote controlled robots for covertly determining the positions of hostages or hostage takers inside enclosed structures.
Click HERE for the JAG Grant Project Abstract 2017.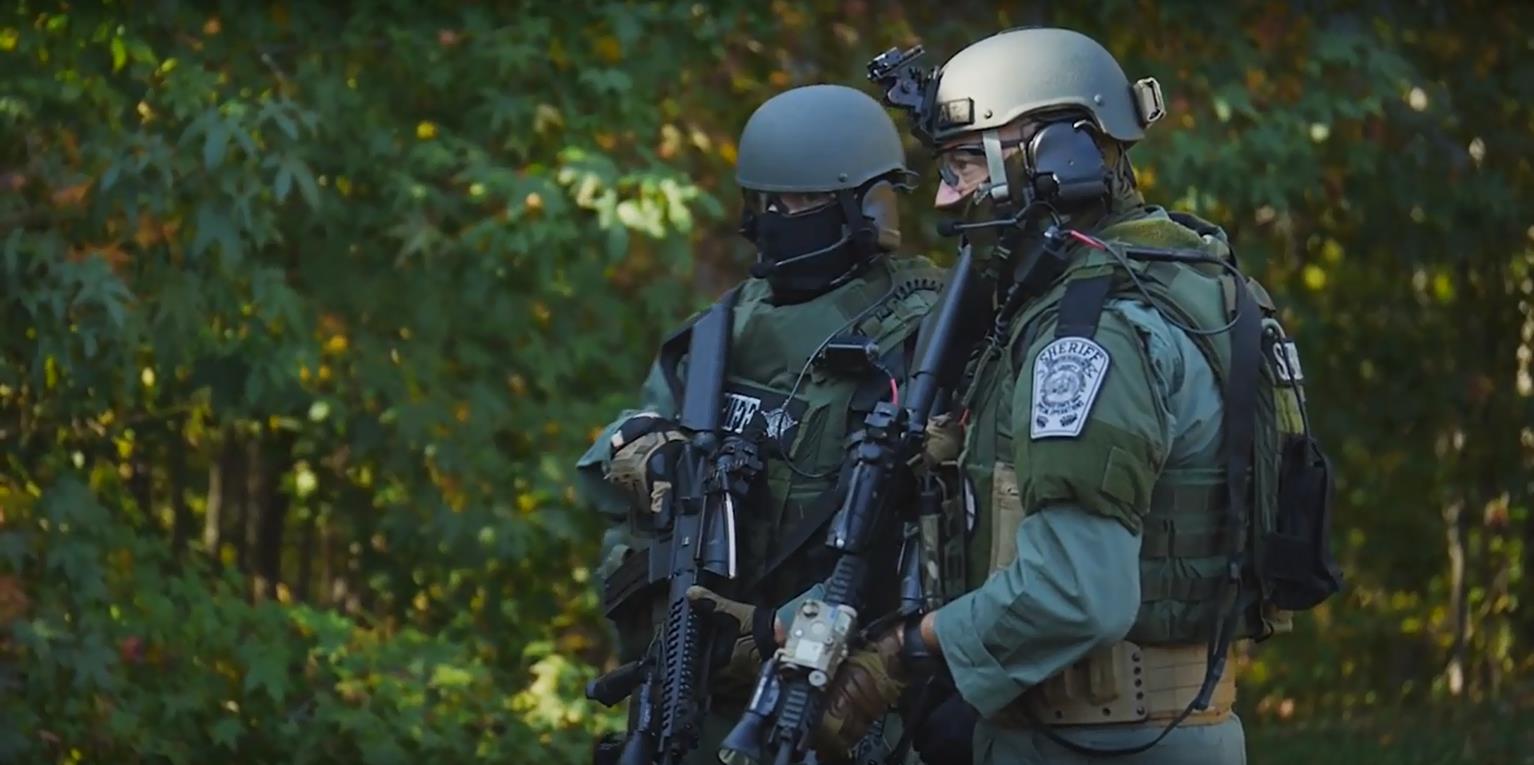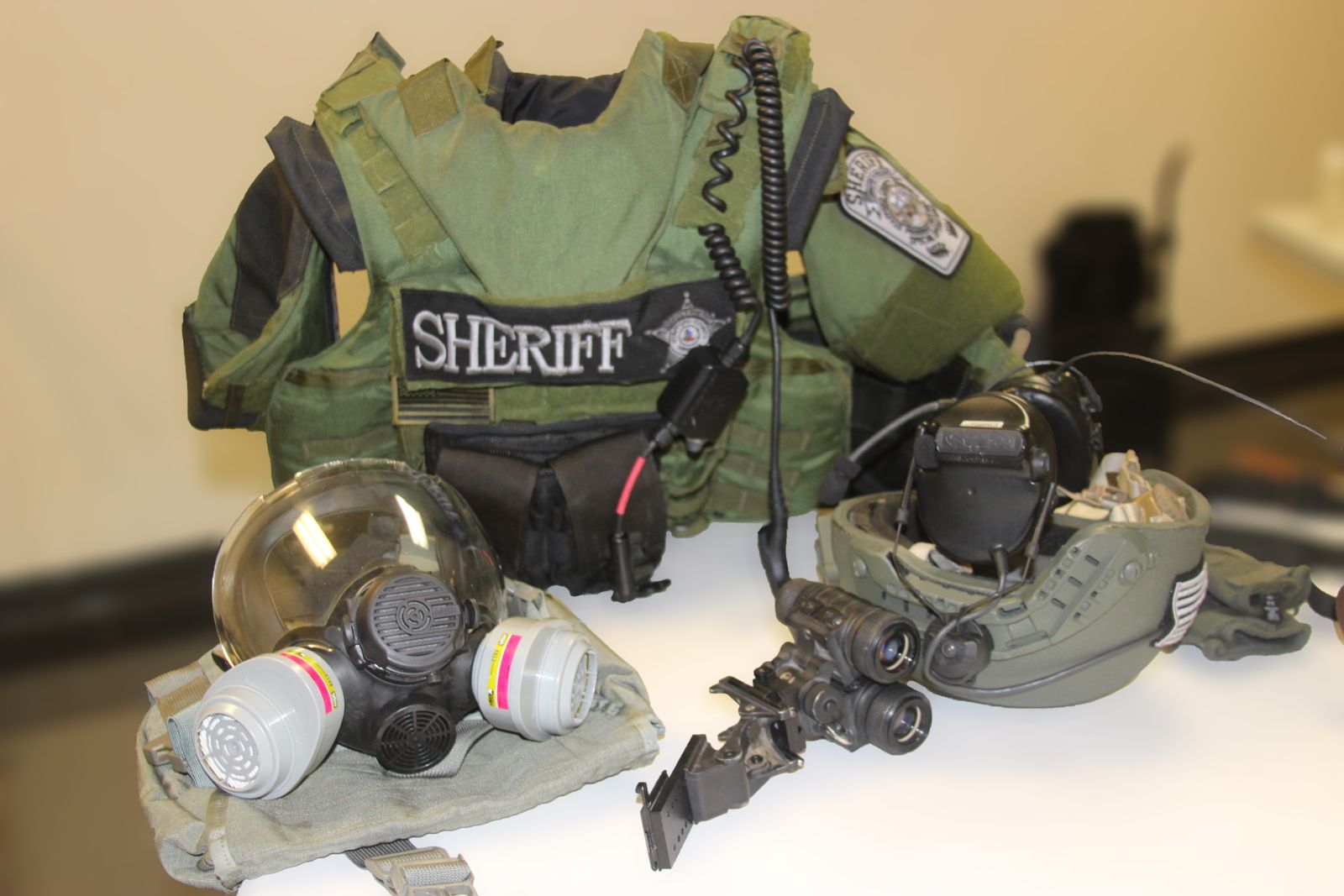 Unmanned Aircraft Systems Team
The Unmanned Aircraft System Team contributes to the overall mission of the Sheriff's Office through advanced technology. An aerial perspective can increase efficiency when conducting an operation or save lives by locating those that are in danger. Members of the Stafford Sheriff's Office are afforded the opportunity to become remote pilots to utilize the latest technological advancements in UAS technology.