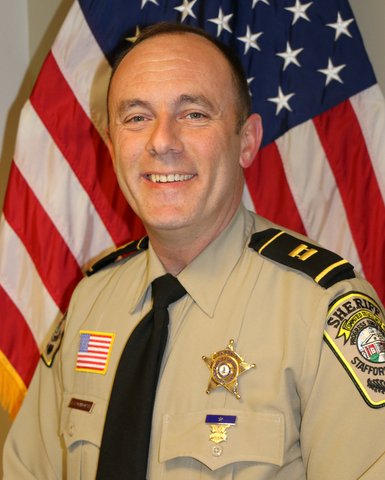 Captain R. Jason Dembowski
Professional Standards Division Commander
Captain Dembowski has been in law enforcement for 19 years and started as an Auxiliary Police Officer with the City of Fredericksburg. Captain Dembowski worked as a Patrol Officer for the George Mason University Police Department from 1999 until 2001 when he joined the Spotsylvania Sheriff's Office. At the Spotsylvania Sheriff's Office, Captain Dembowski worked as a School Resource Officer, Street Crimes Detective, and Narcotics Detective. Captain Dembowski was assigned for six years to the Rappahannock Regional Gang, Drug, and Terrorism Task Force. Captain Dembowski served as Coordinator for the Task Force for three years. In 2013, Captain Dembowski joined the Stafford Sheriff's Office and served as a General Assignment Detective, Major Crimes Detective, Inspector in the Internal Affairs Unit, and First Lieutenant of the Professional Standards Division.
Captain Dembowski is a 2011 graduate of the Virginia School of Polygraph. Captain Dembowski performs pre-employment and criminal polygraphs for the Sheriff's Office.

RESPONSIBILITIES

Professional Standards is comprised of four separate units, Human Resources, Training, Internal Affairs and Finance, which are managed by a Deputy Sheriff Captain. Human Resources currently is comprised of one full-time Senior Human Resources Analyst and a Human Resources Technician who are responsible for the recruitment and hiring of all Sheriff's Office personnel. They administer all employee benefits and maintain personnel records. Training is staffed with three full-time Training Coordinators who are responsible for the documentation, certification, and implementation of all training requirements. Training Coordinators also develop training programs and schedule all specialized training. Internal Affairs is staffed with one regular full-time Deputy Sheriff Inspector and is chiefly responsible for providing over-site for the Sheriff's Office. The Internal Affairs Inspector receives and investigates complaints from the community concerning Sheriff's Office personnel. Finance is staffed with a full-time Finance Director, one full-time Accounting Technician, and one part-time Accounting Technician. Finance administers the Sheriff's Office's budget ensuring employee payroll is correct and all expenditures are processed correct and timely. Finance is also responsible to administer all grants both State and Federal.


Phone: (540) 658-4486
FAX: (540) 658-1583
E-Mail: rdembowski@staffordcountyva.gov