Public Safety Center
Ford T. Humphrey Building
Mailing Address:
P.O. Box 189
Stafford, VA 22555
Physical Address:
1225 Courthouse Rd.
Stafford, VA 22554
Information:



Stafford County Enhances 9-1-1 Services and Emergency Notification With Smart911
The Stafford County Sheriff's Office is excited to announce that Smart911 is now available. Smart911 is a free service that allows individuals and families to sign up online to provide key information t
o 9-1-1 call takers during an emergency.
Smart911 is a program that can help save critical time in an emergency. When a citizen signs up for a Smart911 Safety Profile it enables dispatchers to provide important information to first responders in emergencies, such as a house fire or at the scene of an accident. The details provided in a Smart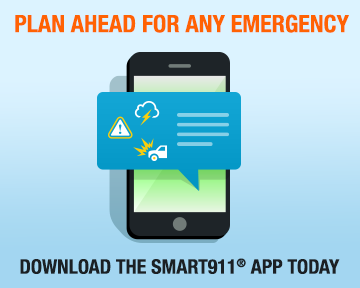 911 Safety Profile help first responders respond faster and more efficiently.
Individuals can create a Safety Profile for their household through Smart911's website or by downloading the app on their mobile device. From there, they can include any information they want
9-1-1 and first responders to have in the event of an emergency. When a citizen makes an emergency call, their Safety Profile is automatically displayed to the 9-1-1 call taker, allowing them to send the right response teams to the right location with the right information.
The Smart911 app provides greater access to the lifesaving benefits of Smart911 and targeted location-based alerts to registered individuals.
Citizens that create a Safety Profile will be better prepared in all towns and counties across the country that utilize Smart911 as the S
afety Profile travels with you and the additional information provided allows dispatchers to send the right response teams faster.
With Smart911, individuals can link both home and work addresses to mobile phone numbers, which can be passed on to responders in the field for a more detailed, rapid response. Additional information including medical and mental health information, pets in the home, vehicle details, and even emergency contacts can all be included in a Safety Profile. All information is optional, and the citizen has the ability to choose what details they would like to include.
Individuals are encouraged to create their Safety Profile with

Smart911

to have their information immediately available to 9-1-1 and to receive emergency notifications

. Smart911 is priva
te and secure, is only used for emergency responses, and only made available to the 9-1-1 system in the event of an emergency call.
To create a Smart 911 Safety Profile visit
smart911.com
or download the Smart911 app in the Apple App Store or Google Play Store.