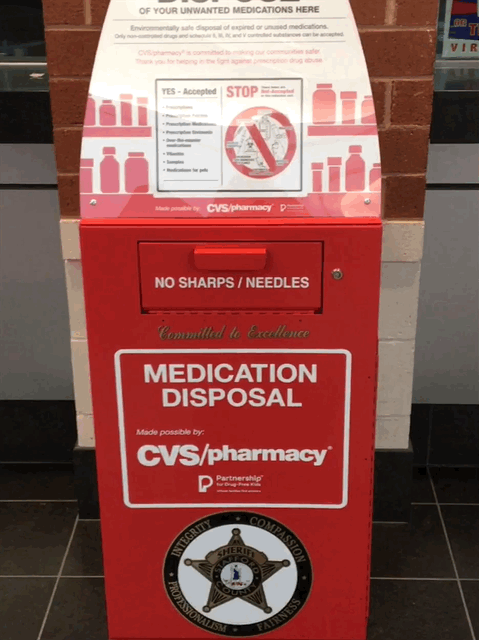 The Sheriff's Office appreciates all citizens being responsible with the storage and disposal of prescription medicines.
A drug collection unit is installed in the lobby of the Public Safety Building located at 1225 Courthouse Road. Drug drop-off is available Monday through Friday between 8 a.m. and 9 p.m in the lobby.
For a printable brochure of tips, CLICK HERE.
Bi-annually, the Sheriff's Office, in conjunction with the Drug Enforcement Administration, Partners on Aging, TRIAD and the Stafford Hospital, holds Operation Medicine Cabinet. Operation Medicine Cabinet is a collaborative effort focused on removing potentially dangerous controlled substances from medicine cabinets all over the country. These events generally take place in April and October (exact dates are published on the Sheriff's Office home page and social media sites) and allow citizens to drop off expired, unwanted or unused pharmaceutical controlled or non-controlled substances and other medications to Stafford Deputies for destruction at the Stafford Hospital.
If one cannot make it to or wait for the events offered, there are two additional disposal options.
Mallinckrodt has long been a strong advocate of addressing the complex issues of opioid misuse and abuse. They provide patients with a safe, environmentally responsible way to dispose of unused medications. A limited number of the complementary drug deactivation kits they produce are available at the Sheriff's Office. Contact the Crime Prevention Unit at 540-658-4030 or crimeprevention@staffordcountyva.gov. For detailed information about the kits and a demonstration video on how the pouch works, please CLICK HERE.

The closest public disposal location to the Sheriff's Office is USN-Naval Medical Clinic at 3259 Catlin Ave., Quantico, VA. For other options, CLICK HERE.