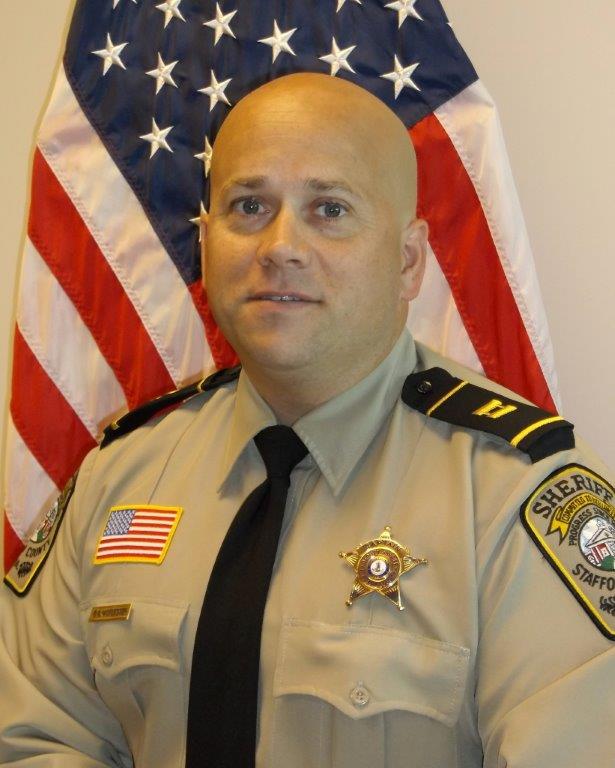 Captain Benjamin G. Worcester
Division of Administrative Services
Captain Worcester joined the Stafford County Sheriff's Office in 2002 after having served in the United States Marine Corps. As a Marine, Captain Worcester was a part of F.A.S.T. Company, an anti-terrorist team, and then began instructing Lieutenants in combat arms at The Basic School, Quantico. Captain Worcester has attended many leadership courses such as the FBI-LEEDA program and the LEAD program which are both nationally recognized for their effectiveness.
Captain Worcester has progressed through the ranks at the Sheriff's Office having been a Field Training Officer, TASER Instructor, Defensive Tactics Instructor, ASP Instructor, Bike Team member and SWAT member. Captain Worcester is responsible for the research, development and implementation of the Unmanned Aircraft System Team and serves as a resource for surrounding agencies on this technology and its implementation. Captain Worcester has spent time in multiple divisions of the Sheriff's Office including Criminal Investigations, Field Operations and Administrative Services where he now serves as the Division Commander.
RESPONSIBILITIES
The Administrative Services Division provides support for all Sheriff's Office operations including Records Management, Evidence Processing, Departmental Property, Data Entry, Accounting Review, Computer Hardware and Software, Fleet Management, Accreditation Management and Technological Research. The Administrative Services Division provides the support from behind the scenes, with the ultimate responsibility of ensuring that all Divisions can perform their responsibilities without interruptions and obtain the required performance levels for the citizens of Stafford County Sheriff's Office and the Commonwealth of Virginia.
The Administrative Services Division is currently staffed with nine full-time and two part-time civilian employees, one Lieutenant and a Captain that commands the division. Seven of the employees are responsible for the entry of the documents requiring input, and provide staffing of the receptionist desk. Two of the civilian employees are responsible for the maintaining, accountability and destruction of all items of evidence and property. One civilian employee maintains all reports and related records required by law and FOIA request. One civilian employee maintains all computer-related equipment and issues that arise on a daily basis, to include new initiatives.
Phone: (540) 658-4970
E-Mail: bworcester@staffordcountyva.gov