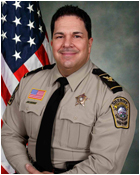 Sheriff
David P. Decatur
| | |
| --- | --- |
| | Resourceful information was shared at the Town Hall Meeting on Opiod Addiction September 17. If you missed it and want to learn more about the many facets of addiction, CLICK HERE to watch the event in its entirety. |
Upcoming Events
| | |
| --- | --- |
| | The National Take Back Initiative is a collaborative effort focused on removing potentially dangerous controlled substances from medicine cabinets all over the country. On Saturday, October 22 from 10am – 2pm citizens may drop off expired, unwanted or unused pharmaceutical controlled or non-controlled substances and other medications to Stafford Deputies for destruction at the Stafford Hospital. CLICK HERE for the event flyer. |
| | |
| --- | --- |
| Dispose of documents safely and securely on Satruday, October 29 from 8 am-12 pm at the Public Safety Center. CLICK HERE for the event flyer. | |
---
Survive the Drive Campaign Video
---
Quick Links
EMPLOYMENT

HEROIN, HEARTBREAK, HOPE

SINK OR SWIM

Anti-Drug Initiative

DRUG REHAB

Information and answers for people fighting addiction

ADDICTION CENTER

ACTIVE SHOOTER

ACTIVE SHOOTER RESPONSE GUIDE

Killed in the Line of Duty
October 9, 1980

CRIMESOLVERS

Text "Stafford (plus your tip)" to "Crimes" (274637)
---
Garrison Woods Shots Fired Incident Yields Weapons and Drug Arrest

Public Information Officer M.C. MORRIS MONCURE, September 26

On September 24, 2016, at approximately 11:00pm, Stafford County Deputies responded to a report of shots fired in the area of the 300 block of Garrison Woods Drive. Dispatch advised patrol that a silhouetted subject was witnessed shooting one round from a gun. No further information was provided by the caller. Once on the scene, deputies began to investigate by making inquiries as well as searching ... (Full Story & Photos)



Darnell Jamal Grayson Booking Photo



Isaac Brickley Moore Booking Photo

Man Arrested for Failure to Appear

Public Information Officer MARGARET MORRIS MONCURE, September 26

On September 23, 2016, at approximately 9:00pm, Stafford County Deputies C.N. Mireles and K-9 Officer A.S. Smith arrived at Barrows Court attempting to locate Isaac Moore. Moore was wanted on for Failure to Appear and several additional charges. K-9 Officer Smith accompanied Deputy Mireles on this call because Moore had been known to flee from law enforcement.

As deputies arrived at the location, ... (Full Story & Photos)


Man Arrested on Multiple Shoplifting Charges

Public Information Officer MARGARET MORRIS MONCURE, September 23

Beginning August 27 and reoccurring on September 3, and 10 incidents of shoplifting involving the same suspect took place at Walmart on Garrisonville Road.

Walmart's Loss Prevention Officer reported that a middle-aged male wearing cargo shorts had been seen stealing electronics on the store surveillance video. The male would enter the electronics department and take Nest Security Cameras and hard ... (Full Story & Photos)



Christopher Alan Yeary Booking Photo


Juvenile Drives Car Into Hidden Lake

Public Information Officer M.C. MORRIS MONCURE, September 21

September 20, 2016, at approximately 7:00 p.m. Sheriff's Deputies responded to a water rescue call at Hidden Lake Subdivision in the western portion of Stafford County.

Two males, both juveniles, had been at the lake consuming alcohol. One of the juveniles attempted to drive a vehicle away from the lake. However, he placed the vehicle in reverse instead of drive and the car entered the water. ... (Full Story)





Stafford Sheriff's Office Offers Car Seat Checks as a Public Service

Public Information Officer M.C. MORRIS MONCURE, September 21

National Child Passenger Safety Week is Sept 18 – 24, 2016. Stafford County has certified car seat checks and offers that service by appointment. Making an appointment is as easy as filling in your contact information online http://bit.ly/2cLn57P

Remember you can never start too early to make safety a priority - but you can start too late. Whether your child rides in a rear-facing infant seat ... (Full Story & Photos)



Expectant mom learns the correct way to install a rear-facing infant seat.