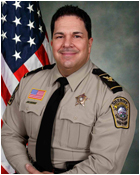 Sheriff
David P. Decatur
CARTER STREET WILL REMAIN CLOSED THROUGH THURSDAY, JUNE 5
By PIO Bill Kennedy
June 3, 2014
Work will close one lane on Route 1 north on Thursday night

FREDERICKSBURG – A portion of Carter Street in the Falmouth area will remain closed until Thursday evening while crews continue sewer work in this area.

In addition, on Thursday night between 9 p.m. - 6 a.m. there will be a single lane closure on Route1 north at Carter Street.

This work is in connection with the Falmouth Intersection Improvement Project .

Real-time listings of road closures in Virginia are available on VDOT's 24-hour traffic and travel information website, www.511Virginia.org.